Peaceful Activism: A Moral Imperative for a Nuclear Free Future
Talk
60 pesos
Gilberto Perez
Gilberto Perez is a member of the Buddhist order- Nipponzan Myohoji Sangha and one of the "Trident Three" protesters who were arrested at a Mothers Day demonstration at the Trident nuclear submarine base.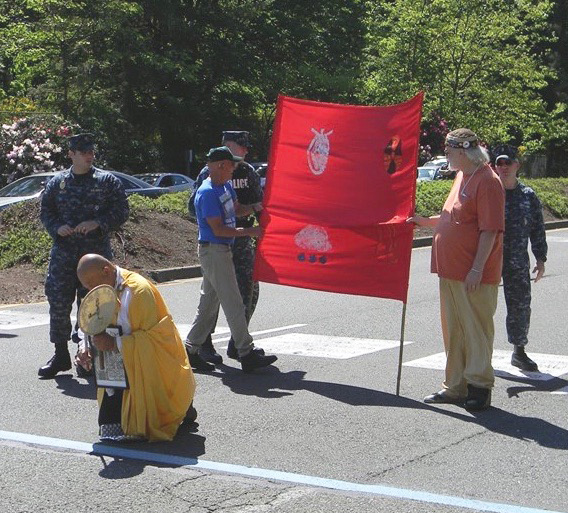 The Trident base, just 20 miles from Seattle, Washington, is home to the largest single stockpile of nuclear warheads in the U.S. arsenal. It is the last active nuclear weapons depot on the West Coast. Perez will discuss today's peace movement along with some of his own experiences including the Trident Three's trial (he was sentenced to community service at the Center for Global Justice) and his work with the Ground Zero Center for Non-Violent Action.
Perez became a Buddhist monk 2002, primarily performing peace walks against Nuclear Weapons. He now lives in central Mexico and, while occasionally leaving for peace walks around the world, he works with local indigenous women on projects toward building a solidarity economy.
A life-long activist, Perez was born in Cuba during World War II. His' mother brought him to United States as an infant while his father served as a merchant seaman. As a young man in the sixties, Perez worked with the Congress of Racial Equality (CORE) and was involved with the student takeover of Columbia University opposing the University's plan to build a gymnasium in Morningside Park--one of the few forested recreational parks in Harlem. Later he was involved in such protests as the 1968 Chicago Convention, the American Indian Movement's take over of Alcatraz Island, and vigils at Berkeley against the Think Tanks and Livermore Labs.
Sala Quetzal




La Biblioteca Publica, Rejoj 50A, Centro




San Miguel de Allende

,

GUA

37700




Mexico
Download iCalendar entry for this event.
iCalendar feed for this event.