Environmental Prize Winners
Film & Discussion
60 pesos
Discussion with Susan Goldman
The Goldman Environmental Prize honors women and men who take grassroots actions to protect the environment in their communities. Goldman Prize recipients focus on protecting endangered ecosystems and species, combating destructive development projects, promoting sustainability,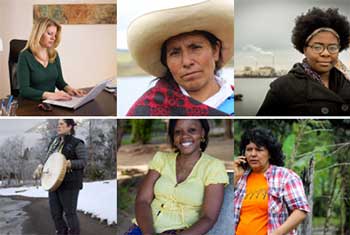 influencing environmental policies and striving for environmental justice. Prize recipients are often women and men from isolated villages or inner cities who choose to take great personal risks to safeguard the environment. This film will focus on six women prize recipients from Slovakia, Peru, the US, Canada, Kenya and Honduras. Their actions, courage and compassion are inspiring. Ordinary women act in extraordinary ways to protect the environment and their communities in these short videos. You will see them working in their communities and their acceptance speeches for the environmental prize.
51 minutes | Language: Various | Subtitles: English
Sala Quetzal




La Biblioteca Publica, Rejoj 50A, Centro




San Miguel de Allende

,

GUA

37700




Mexico
Download iCalendar entry for this event.
iCalendar feed for this event.