"Day of the Dead" in Chiapas
Oct 28th, 2017 12:00 am through Nov 4th, 2017 12:00 am
Tour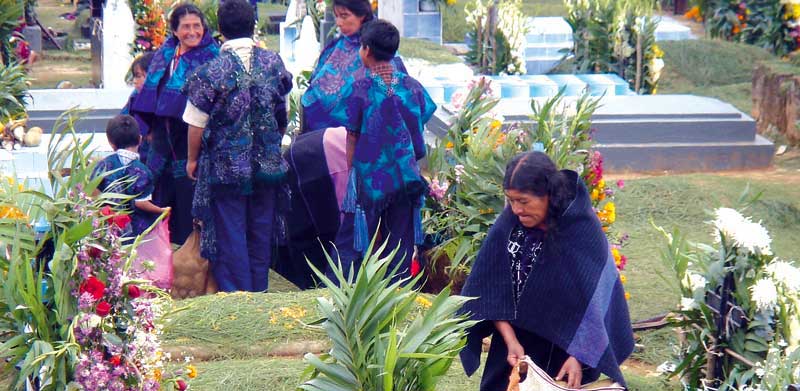 The Center for Global Justice is planning a "Day of the Dead" adventure to Chiapas this fall. From October 28th to November 4th, a group of no more than 10 will experience the blend of indigenous and catholic ritual that entwines in this regions honoring of those that have passed. It's a very memorable few days filled with incredible beauty and traditions unique to the region.

From our base in San Cristobal de las Casas, a town of European flavor, the group will also visit several indigenous communities, each with its own language, dress and customs. In this state of geographically and historically distinct communities, there are some 11 different languages spoken. And of great importance, this is the area that gave birth to and continues to nurture the Zapatista's, a movement that inspires many in the reality that another world is not only possible, but is being practiced successfully in everyday life, here in Chiapas.

The Center's Chiapas trips have been very popular. The small group size, wonderful local bilingual guide and progressive educational itinerary insure a trip that will be enriching.

$250 Deposit Required
Balance due by Sept 1
Group size limited to 10 people

Cost per person:
DOUBLE - $1100
SINGLE - $1300

Costs include:

Roundtrip flights from and to Mexico City to Tuxtla.
Airport transportation in Chiapas.
Bilingual guide.
7 nights hotel stay.
Local transportation to all planned activities.
Entry fees to all planned activities.

To secure your place, mail a check for $250 USD per person to:
Center for Global Justice,
5802 Bob Bullock Loop,
C1 #84, Laredo TX 78041

If you are mailing a check,
be sure to email admin@globaljusticecenter.org to alert us that your reservation is in the mail.

Balance due September 1st.

For more info, contact Olivia at admin@globaljusticecenter.org

ITINERARY

Oct 28th
Flight from Mexico City to Tuxtla and transportation to our hotel in San Cristobal
Oct 29th

Sumidero Canyon; an incredible natural wonder that we will explore by boat.

Universidad de la Tierra; a school in San Cristobal closely aligned with the Zapatistas' and dedicated to indigenous knowledge and skills.

Oct 30th
Oventic; a Zapatista community where we will request admittance and an overview of life in the autonomous community.
Oct 31st

SIPAZ ; an international organization for peace that work relentlessly in protecting indigenous rights and bearing witness to acts that lead to greater violence.

Museo de las Trabajadoras and Textile Museum.

Nov 1st

Na Bolom; the former home of Franz and Gertrude Bolom and now a museum dedicated to the protection of the Lacandon Maya and the preservation of the Chiapas rain forest.

DESMI; a local non-profit that supports a "social economy" and many of the indigenous programs around sustainable agriculture, social justice and collective economic models.

Nov 2nd
Day of the Dead activities in Chamula and Zinacantan. Breathtaking, mysterious and unforgettable.
Nov 3rd
Tonina; a remarkable archeology site dating back to approximately 514AD. This early Mayan city is not as well known as Palenque, but well developed and of great historical importance, containing a "great pyramid" and many well preserved stela.
Nov 4th
Transfers to Tuxtla Airport for flight back to Mexico City.
| | |
| --- | --- |
| Deposit | $ 250.00 |
| Full Fee: Double Occupancy | $ 1,100.00 |
| Full Fee: Single Occupancy | $ 1,300.00 |
| Balance after deposit: Single Occupancy | $ 1,050.00 |
| Balance after deposit: Double Occupancy | $ 850.00 |