Another Special Trip to Tolantongo
Feb 13th, 2018 8:00 am through Feb 16th, 2018 4:00 pm
Tour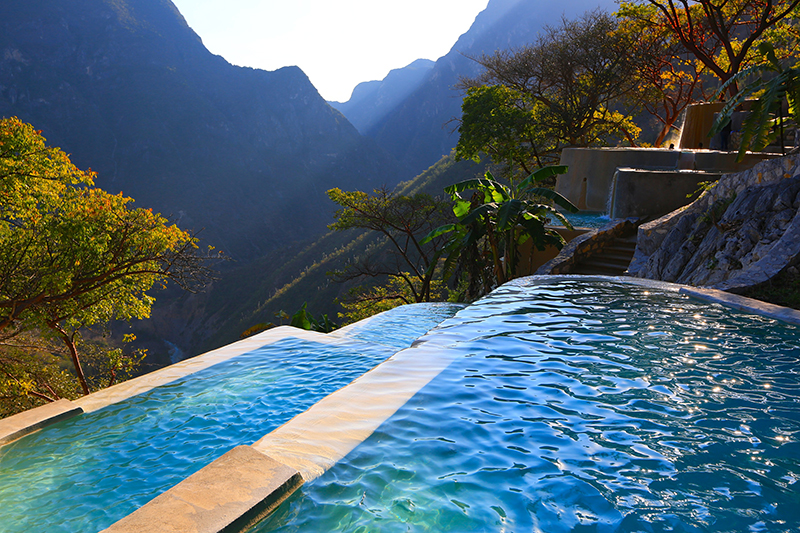 The Global Justice special annual eco-activity trip will take us to the glorious Grutas de Tolantongo ecological site from Tuesday February 13th until Friday February 16th.
This Grutas group is one of the top co-ops in Mexico given the quality, security and the cleanliness of their operations. It has a website that gives you a good initial view of Tolantongo that is surrounded by two gorgeous green mountains. www.grutastolantongo.com.mx
We have enjoyable hiking and walking options there that will give us all good activity to have exceptional views of this entire, unique area – one of the most attractive in Mexico.
Tolantongo is on the east side of the State of Hidalgo, just about a four-hour drive from San Miguel. As we get close to this marvelous location you get an initial view of the amazing structure of the connected green mountains.
In the bottom of the Tolantongo area is a unique blue, warm water riverbed that flows year-round out of the distinctive Grutas cave.
You can go and sit in this cave and get showered by the warm water flowing down in the interior centre of the mountain.
In addition, there is warm water flowing down the surfaces of surrounding mountains and a reasonable amount is captured into a good number of sitting pools made by this special co-op.
There is a significant number – up to 6,000 - camping on the riverbed area every weekend.
We always visit in mid-week and we always reside for three nights in hotel rooms in the upper level of Tolantongo that gives us a great view of this remarkable area.
Jock Ferguson have been to Tolantongo many times so he easily help everyone to physically explore this lovely area.
There is a wonderful trail that takes you down from the upper hotel area close to the riverbed.
In addition, there is a zip line (Tirolesa) option to go down fast to the riverbed area. You can see it on the website. We can walk down to the riverbed and then back up on the main white entrance road that the grutas keep clean and safe. Of course, the coop has vans that can help us move easily up and down.
The Cost Estimated for this trip for each person is 4,000 pesos.
Approximately another $700 to $900 pesos will be needed per person if we need a private van transportation for this trip.
The individual costs include the entrance fee, the hotel room fee and food. Jock will collect all the pesos from everyone and pay for everything just to make it safe and easy. He will show everyone all the receipts so you know all the spending.
Jock will drive his car and can take three others with him at no extra costs. Hopefully we can get at least one more car to do this.
Contact either of us to register for this next great Tolantongo Grutas trip:
Jock Ferguson – 121-6042
jockferguson1@mac.com
Olivia Canales – 150-0025 between 5pm and 9pm
admin@globaljusticecentre.org