Chiapas, a place of old wisdom and contemporary influences
Mar 12th, 2020 4:00 pm through Mar 19th, 2020 3:30 pm
Tour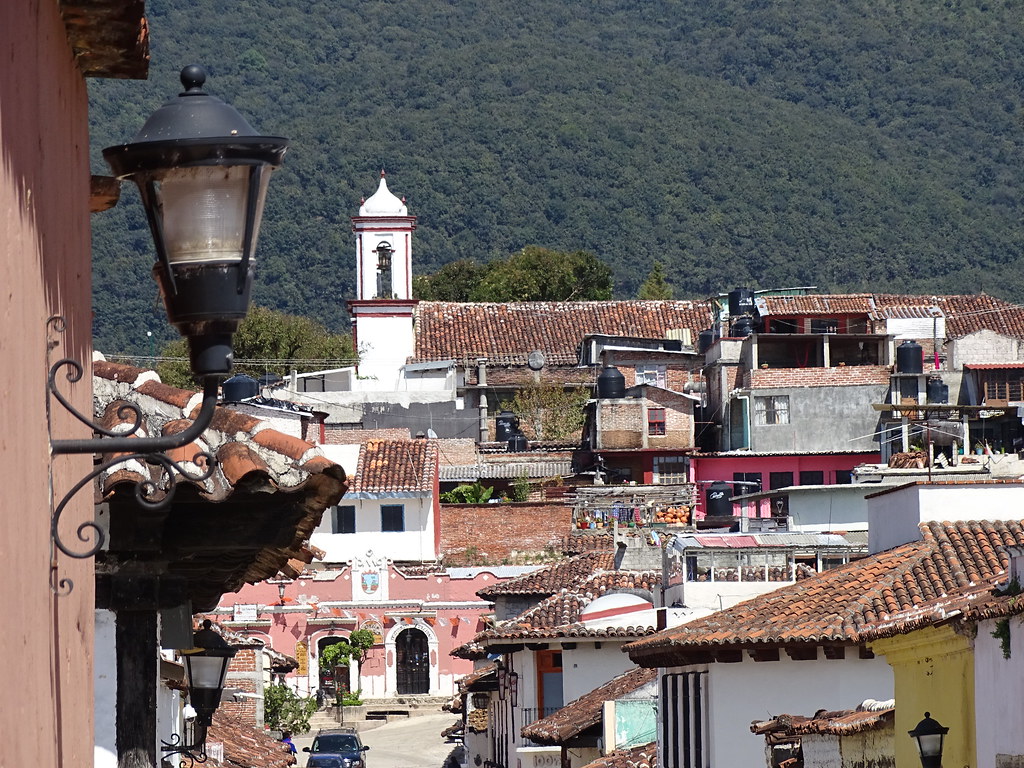 photo by Adam Jones
CGJ will be taking a small group of adventurous and inquisitive travelers to the southern Mexico State of Chiapas this coming March. In keeping with our mission statement, this trip will focus on the social/political stew that has been simmering in this area rich in; history, cultures, resources and natural beauty.

Using San Cristobal as our home base, we will explore this southern state that borders Guatemala. The geography of the area has assisted the preservation of some 13 different indigenous groups, most of Mayan heritage, with their own language, customs, autonomous governance and attire. What is the impact of this colorful diversity on everyday life in Chiapas? The Zapatistas emerged from this region in the late 20th century and remain a major force in the state. Their influence will be evident as we walk through the city. With our local connections, we plan on visiting a Zapatista community as well as other indigenous towns where our knowledge will be expanded and preconceptions challenged.

The group will also have ample opportunity to wander the artisan markets of San Cristobal and beyond. With its broad pedestrian streets and strong European influence, San Cristobal is a safe and colorful city to explore. If you enjoy handwoven textiles, world class gourmet food and cultural museums, you'll love San Cristobal. Day trips to the incredible Sumidero Canyon ecosystem, Tonia archeological will provide a great adventure that will give you a sense of the natural beauty and ancient history that abounds in Chiapas.

SORRY, This trip is FULL!

$250 Deposit Required
Balance due by Feb 21
Group size limited to 10 people

---

Cost per person:
DOUBLE - $1100
SINGLE - $1200

---

Costs include:

Roundtrip flights from and to Mexico City to Tuxtla.

Airport transportation in Chiapas.

Bilingual guide.

7 nights hotel stay.

Local transportation to all planned activities.

Entry fees to all planned activities.

---

For more info and/or more payment options, please contact Olivia at: admin@globaljusticecenter.org

---

Tentative Itinerary

Day 1
Flight from Mexico City to Tuxtla and transportation to our hotel in San Cristobal
Day 2

Sumidero Canyon; an incredible natural wonder that we will explore by boat.
Universidad de la Tierra; a school in San Cristobal closely aligned with the Zapatistas' and dedicated to indigenous knowledge and skills.

Day 3
Oventic; a Zapatista community where we will request admittance and an overview of life in the autonomous community.
Day 4

SIPAZ ; an international organization for peace that works relentlessly in protecting indigenous rights and bearing witness to acts that lead to greater violence.
Museo de las Trabajadoras; free indigenous clinic and museum run by Sergio Castro, one of the most amazing human beings you'll ever meet.

Day 5

Na Bolom; the former home of Franz and Gertrude Bolom and now a museum dedicated to the protection of the Lacandon Maya and the preservation of the Chiapas rain forest.
DESMI; a local non-profit that supports a "social economy" and many of the indigenous programs around sustainable agriculture, social justice and collective economic models.

Day 6

Chamula and Zinacantan. Indigenous communities, that are unique and unforgettable.
Centro de Textile de Mundo Maya; Museum featuring an incredible collection of Mayan weavings from Chiapas and Guatemala.

Day 7
Tonina; a remarkable archeology site dating back to approximately 514AD. This early Mayan city is not as well known as Palenque, but well developed and of great historical importance, containing a "great pyramid" and many well preserved stela.
Day 8
Transfers to Tuxtla Airport for flight back to Mexico City.
---
100% Refund for Cancellation by February 19th
Cancellations between February 20th to 29th, get a 50% refund
No refund as of March 1st
---
| | |
| --- | --- |
| Deposit | $ 250.00 |
| Full fee for Double | $ 1,100.00 |
| Full fee for Single | $ 1,200.00 |