Inequality for All
Film
60 Pesos
Economic inequality has always been a key feature of capitalism. But it is now becoming increasingly clear to many that today's growing massive inequality threatens to destroy capitalism itself. Former Clinton administration Labor Secretary Robert Reich presents a passionate argument on behalf of the middle class in his film "Inequality for All." He demonstrates how the widening income gap has a devastating impact on the US economy, threatening the viability of the workforce and the foundation of democracy itself. ` In this inconvenient truth for the economy, Reich uses humor and a wide array of facts to explain why the U.S. ranks a lowly 64th on the inequality scale among the world's nations—onl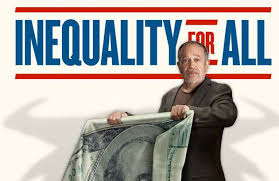 y slightly better than the Ivory Coast and Cameroon. (A little gossip: Reich vacationed in San Miguel last month and said he loved our town.) .
The film premiered at the 2013 Sundance Film Festival in the Documentary Competition section, and won a U.S. Documentary Special Jury Award for Achievement in Filmmaking.
Sala Quetzal




La Biblioteca Publica, Rejoj 50A, Centro




San Miguel de Allende

,

GUA

37700




Mexico
Download iCalendar entry for this event.
iCalendar feed for this event.