Consuming the Future
Film & Discussion
60 pesos
Discussion with Atahualpa Caldera Sosa
As consumers in a globalized world, we have become accustomed to having an enormous array of fresh vegetables available throughout the year.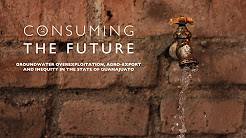 But how many of us know where these vegetables come from, how they are produced, and with what socio-environmental consequences? This documentary examines the fresh vegetable production sector here in the state of Guanajuato, Mexico. It shows the global dynamics that have spurred the industrial production of fresh vegetables for export--displacing many local small farmers in the process-- as well as the devastating socio-environmental consequences of the intensive use of groundwater.
The screening will be followed by discussion with Atahualpa Caldera Sosa, a biologist and watershed management expert who works with Grupo de Acción Interdisciplinaria Ambiental A.C. (GAIA), a non-profit organization that works to generate sustainable alternatives in urban, suburban and rural communities. They have developed an ecovillage which is a model of sustainable living -- adobe houses, solar panels, dry (compost) toilets, a windmill, solar oven, and a water collection system with filtration and a 90,000-liter cistern.
On Friday, March 17, the Center for Global Justice will host a tour of GAIA, located just 15 minutes away from San Miguel, and of Via Organica's organic teaching farm which is an educational model in regenerative organic agricultural production and sustainable living and serves as a training center and network for farmers, families and activists.
Sala Quetzal




La Biblioteca Publica, Rejoj 50A, Centro




San Miguel de Allende

,

GUA

37700




Mexico
Download iCalendar entry for this event.
iCalendar feed for this event.